>Untitled Document
About the Artist
Biography of Ray Balbes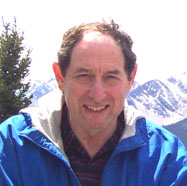 Born in Los Angeles, Ray has devoted himself to two endeavors, the pursuit of mathematics and the development of his artistic abilities. Graduating from the University of California at Los Angeles (UCLA) in 1966 with a Ph. D. in mathematics he went on to a long career as a professor of mathematics at the University of Missouri and is presently an emeritus professor of that institution. Retired from teaching, he now devotes his full time to art. 
The advent of the personal computer and software programming allowed Ray to combine his two passions; mathematics and art.  In the 1980s he developed his first professional software program enabling artists to create computer animation for television.  From this beginning he has developed an extensive suite of software programs for the depiction of art.  Developed solely by Ray, this suite exceeds the functionality of many other art programs and is capable of an unending range of techniques. This suite is proprietary to Mr. Balbes and is used only by him.  Ray's creative process begins (like all artists) with the image in his mind. He then develops the software necessary to achieve the desired result. Creating the software is much like mixing oils, selecting the material for a sculpture, or choosing a type of pencil, he is just working within a digital medium.  Armed with such capability he has gone on to produce a wide range of unique fine art.  Styles encompass realism, representation, impression, and abstract.
Ray has exhibited his work through galleries and exhibitions in California, Missouri, and Texas.  He has also completed several single artist shows.  He has won over 20 awards and has been accepted in over 30 juried art shows. To date over 500 pieces of art have been sold.